SALESFORCE PRACTICE
SALESFORCE ANALYTICS
Act on data – Find data driven insights and Act, right within Salesforce and discover the story your data has to tell.
As a company, we know that there are instances where we must deal with data coming in from different sources. It makes working efficiently, spotting opportunities and trends, and predicting the right outcomes a major challenge. But it doesn't have to be that way when you empower the RNXT's multi-cloud consulting team to implement the Salesforce's Tableau CRM (formerly Einstein Analytics).
Salesforce CRM analytics is a powerful, accurate, and extensive CRM analytics solution, designed to provide users with a single, unified system capable of collecting and analyzing customer data to turn into valuable insights. Tableau CRM (formerly Einstein Analytics) empowers Salesforce CRM Users with actionable insights and AI-driven analytics right in their workflow. Since Tableau CRM is native to Salesforce, data can be seamlessly woven into every action and decision taken in Salesforce including Sales Cloud and Service Cloud.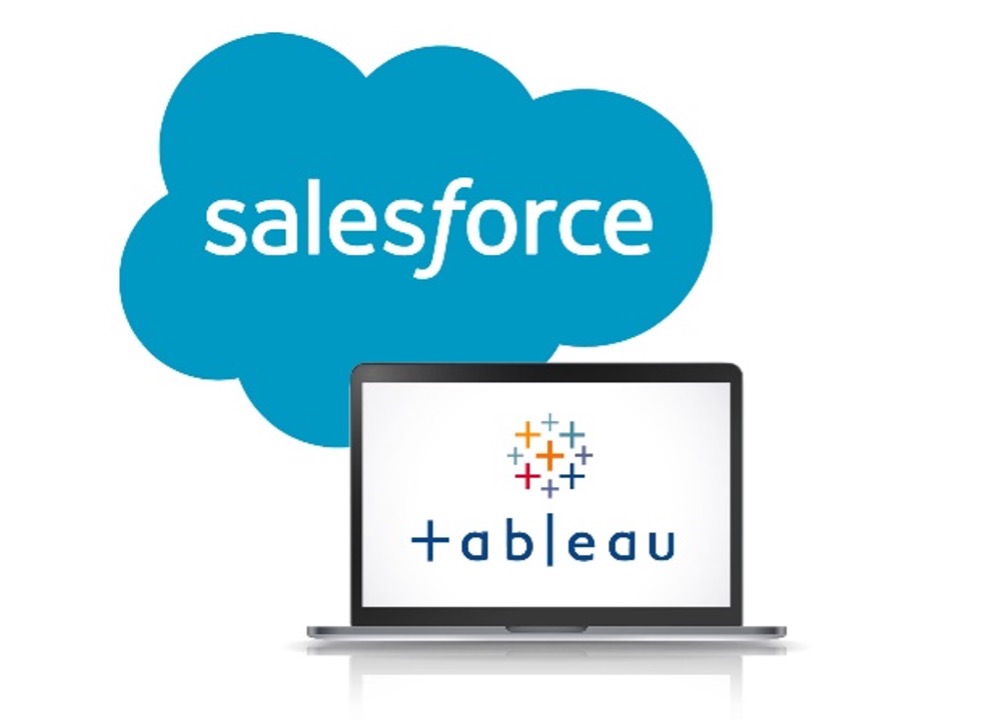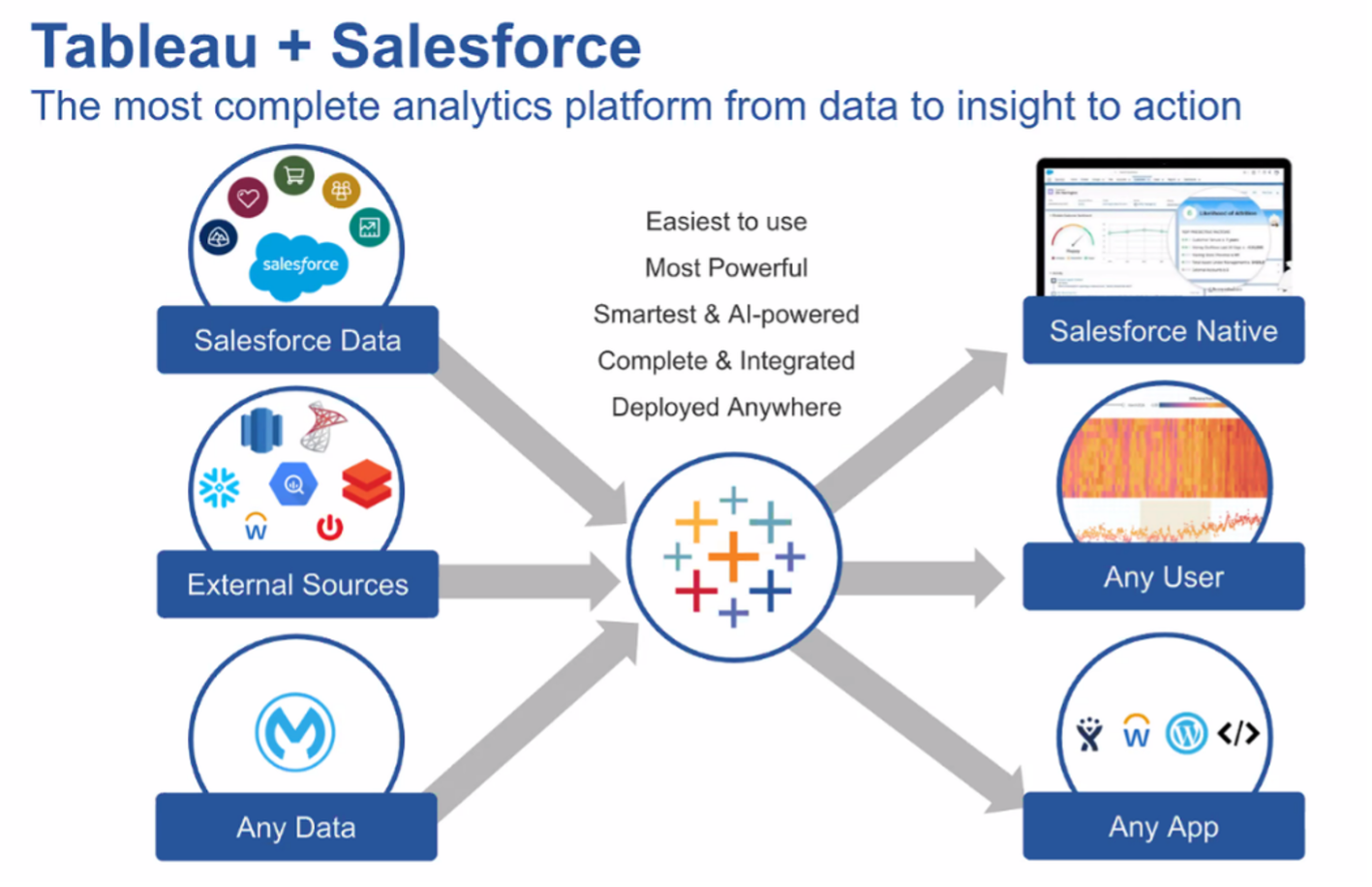 For Salesforce, the Tableau integrations means it can better address data and analytics from multiple angles by adding the perspective analytics capabilities across the Tableau Platform.
The benefit with this collaboration is, The Tableau CRM plugs right into Salesforce, so you can get up and running right away. No more waiting for IT to install and optimize software and hardware. Also, Analytics makes it easy for Salesforce data – or any other data – from across your business.
Now you can instantly explore information, find insights, and take actions that help your whole team move forward.
The benefit with this collaboration is, The Tableau CRM plugs right into Salesforce, so you can get up and running right away. No more waiting for IT to install and optimize software and hardware. Also, Analytics makes it easy for Salesforce data – or any other data – from across your business.
Now you can instantly explore information, find insights, and take actions that help your whole team move forward.
The benefit with this collaboration is, The Tableau CRM plugs right into Salesforce, so you can get up and running right away. No more waiting for IT to install and optimize software and hardware. Also, Analytics makes it easy for Salesforce data – or any other data – from across your business.
Now you can instantly explore information, find insights, and take actions that help your whole team move forward.
Let's recognize that Salesforce seamlessly integrates with Tableau and simplifies the ability to use Tableau's analytical power to obtain a deeper understanding of data, which is the core-interest for many businesses.
By integrating Tableau with Salesforce data, we can get the access to Salesforce data with visualization through Tableau, ensuring accurate data in a format that matters the most to your organization. Besides, interactive visual analysis enables you to make decisions based on the data collected within your organization such as prospecting, lead management, process coverage, account management and many more.
And that's not all, there's also Tableau's dashboards designed to help you jumpstart with actionable data analytics. Basically, it offers you the ability to instantly customize and create stunning data-rich visualizations for specific purposes including account tracking, quarterly performance reports, top accounts and more in just a few clicks.
Conquer your data and analytics with our consultants at RNXT who specialize in customizing and implementing an analytic blueprint that fuels your business for growth. We've demonstrated knowledge and capacity to consistently produce customer success.
SALESFORCE INTEGRATION
When data resides in various disconnected locations or in legacy systems, the operations, sales, marketing, and service departments struggle to work systematically towards company goals as such systems offer little or no visibility into an organization's business processes while also manual interventions being highly required to fill in the transaction gaps. – blocking your business' ability to reach its potential.
RNXT's Salesforce Integration Consultants identify solutions to siloed system issues for their customers which always prove to be enabled with high interoperability, intuitive in design and user-friendly. Our Integration Services can encompass a solution across all applications including Microsoft, Oracle, Abode, SAP etc., data management and the organization's business processes. With our experienced onshore/offshore Salesforce Integration Consultants we help enable Salesforce integrations across systems and data that reside both on-premises and in the cloud.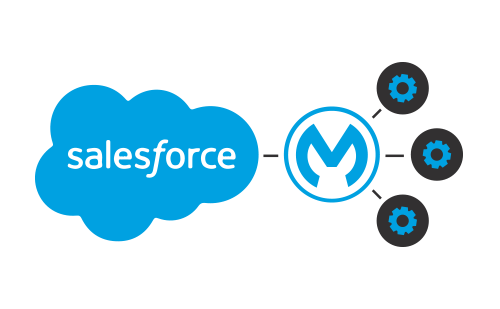 Salesforce Integration Services using Middleware Technology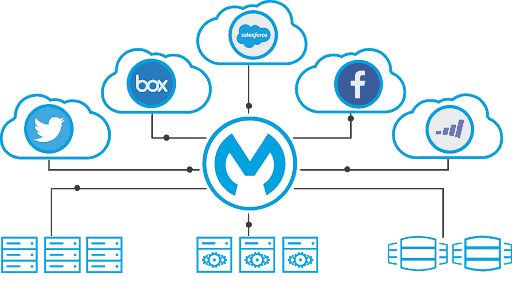 We have consultants experienced in Middleware technologies who can help eliminate a major chunk of the complexities and the pain associated with integrations. The role of a middleware technology is critical where businesses require a connection with legacy systems, cloud and SaaS applications, and business management software such as SAP and Salesforce.
Earlier, businesses who wished to integrate their systems and migrate to the cloud had to undertake a long and complicated process that often-caused interruptions in everyday business processes. However, Salesforce integration services – powered by MuleSoft – have changed the game. Integration centers around configuring multiple on-premises (non-cloud) and cloud-based applications to share data resulting in a 360º view of your targets so you can pivot and deploy data-based strategies.
We at RNXT use the power of MuleSoft and Salesforce to build an architecture for change with APIs and loosely coupled applications.
MuleSoft's Anypoint Platform enables organizations to synchronize data between all their systems. This enables them to speed up and improve the application development process, unlock siloed data for a connected customer experience, and maintain governance and security while scaling.
The breadth of integration capabilities enabled by MuleSoft's Anypoint Platform and an API led connectivity approach can easily support whichever capacity Salesforce is acting in.
RNXT's Salesforce Integration Consultants will work with you to automate your business processes and enable secure sharing of data across numerous applications by integrating disparate systems and services.
Use RNXT as a Salesforce Integration Partner and take advantage of the broad experience in creating custom connectors and adaptors and we can also help design and develop custom data integration tools to meet your distinct business requirements. We offer Salesforce integration services customized to best suit your business operations, processes, and workflows.
SALESFORCE CRM CLOUD
CRM or Customer Relationship Management is the core thread between businesses and consumers.
It is the strategy to manage communication among business, customers, and future customers or prospects. The CRM systems help the companies stay connected to customers, integrate processes, and maximize profitability.
Cloud Services of Salesforce CRM intends to provide advanced cloud solutions to sales, customer service, marketing, HR, financial systems, inventory, and other sectors of an organization. Some of its respective cloud services are Sales Cloud, Service Cloud, Marketing Cloud, Analytics Cloud, IoT, and Health Cloud.
Salesforce CRM services or products are designed to fit every aspect of an organization. The apps running in the cloud with Salesforce are secure and very dependable, offering several benefits to the users like – Reliability, Security, Adaptability, Scalability and Multitenancy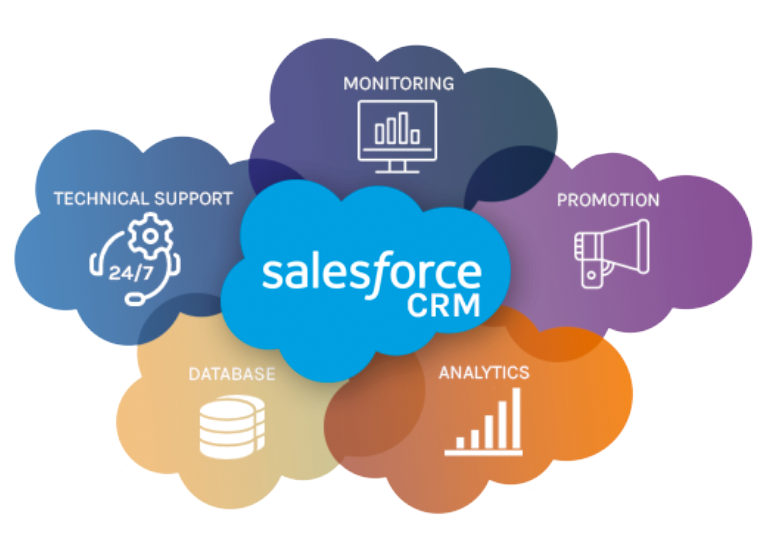 SALESFORCE SALES CLOUD: ACCELERATE AND AUTOMATE GROWTH
Our tailored Sales Cloud experiences for your business will revolutionize the way you track sales and convert leads, automate opportunity workflows, and drive revenue growth.
Sales Cloud is an immensely powerful tool, and our consultants will help build your company's processes, including
Lead Generation & Opportunity Management
Reports and Dashboards
Sales Collaboration and Performance Management
Workflow & Approvals
Email Integration & Mobile CRM
Salesforce Sales Cloud enables the automation of any business process thus increasing productivity and streamlining sales for better ROI. By integrating different Salesforce Sales Cloud tools, we can help Salesforce users to automate workflows, gain advanced analytics of historical pipeline information, and so much more.
SALESFORCE SERVICE CLOUD: ENGAGE CUSTOMERS WITH A SEAMLESS SERVICE
Salesforce Service Cloud is the premiere cloud-based solution for call center, CRM and help desk management that offers to deliver seamless and customized customer services, track customer activity across every channel, increase business productivity and eventually help increase customer satisfaction.
Our Salesforce Service Cloud Consultants, with their skillful expertise utilize the Service Cloud's divergent and individually designed platforms to evaluate and implement all aspects of the service cloud including:
Service Cloud Voice.
Workflow and approval automation
Lightning Service Console.
Service Analytics.
Service Process and Automation.
We make it easier for enterprises to automate service processes and streamline workflows by utilizing a 360-degree view and connecting with every customer on any device.
SALESFORCE MARKETING CLOUD: AUTOMATE B2C MARKETING
Salesforce Marketing Cloud, one of the most anticipated and evolving Salesforce products helps businesses make smarter data-based decisions, as well as drive sales and close deals through multi-channel communications.
Salesforce's robust marketing cloud solution is specifically designed to deliver a unified platform for marketing professionals looking out for business productivity by understanding the consumers, tracking their journey, and to engage and interact with them to subsequently predict optimal channels and offer them calculated personalized experiences.
Some of the key features of Salesforce Marketing Cloud includes:
1:1 content personalization
Mobile and Messaging and push notifications
CRM and cross-channel integration
Predictive Intelligence, Real-time tracking and reporting
Email and Marketing automation
Customer Data Platform
Our team will assist to remodel your marketing department into the digital world with a 360° view by allowing personalization at every touchpoint with your customers.
SALESFORCE ANALYTICS CLOUD
Salesforce Analytics Cloud, powered by Einstein Analytics and Tableau, is specifically designed to make smarter decisions faster by turning big data into actionable decisions while uncovering new insights.
It delivers a data analytics review via a built-in engine and offers several value-added features starting from exploring data and AI-powered recommendations, up to mobile-optimized and wide integration options ready to meet the needs of the conscientious users. Coming in various pricing plans, Salesforce Analytics Cloud is designed to be used as a separate service or combined with the Salesforce platform kit.
SALESFORCE INTERNET OF THINGS (IOT)
Salesforce IoT Cloud enables the connection of all important data in IoT, from any device to the rest of Salesforce for real-time insights and interactions with customers; basically, connecting business to customers across every connected device. The Salesforce IoT platform is designed to process the data volumes generated by devices, sensors, and applications for actions for real-time responses.
RNXT helps organizations manage, migrate, and monitor their Cloud applications by identifying and designing cloud adoption strategy and implementing it. Our Cloud services help organizations achieve agility, reduce the cost of ownership, and provide maximum return on investments.
Speak to Us Today
Are you searching for answers or would like to receive more information on our Salesforce Consulting Services? Do you wish a more detailed advice from our experts?